StoreSeen create custom designed online stores for retailers, pre-loaded with data for thousands of products from key suppliers in a growing number of industry sectors.
Whether you're new to selling online or looking to improve your existing online store, StoreSeen can provide you with a professionally custom designed website allowing you to compete with even the most established online retailers. Save money with our low cost structure and increase your sales across the UK and beyond.
Save weeks of data entry
StoreSeen is pre-loaded with product data (descriptions, images, etc) from key suppliers in a growing number of industry sectors

Save money with StoreSeen's low cost structure
Low upfront cost with a monthly fee based on sales

Compete with the big players
Each website is professionally custom designed to allow you to compete with even the most well established online retailers

User-friendly web based solution
No need to download software or be a computer expert

Increase your sales
Get sales from across the UK and beyond with sales pushed by StoreSeen

Keep ahead of internet trends
StoreSeen is constantly evolving with new features and improvements automatically available at no additional cost
Featured Website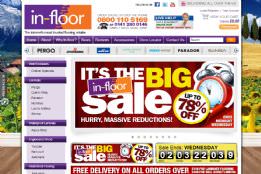 In-Floor
A leading supplier of laminate and hardwood flooring with retail superstores across the country.
What our clients say...
"...The customer service offered is second to none and the technical coaching and support provided has proven to be invaluable."
Wendy Innes
Commercial Director, Williamson Innes Contemporary Art
Latest News
Reduce Shopping Cart Abandonment

28 Oct 2012 - How to reduce shopping cart abandonment.