News
Latest Site Launch: In-Floor
20 May 2011
In-floor launches new website with StoreSeen.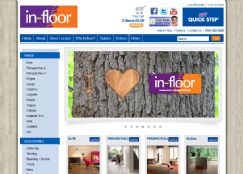 StoreSeen are pleased to announce the completion and launch of the new In-Floor website.
InFloor.co.uk is a company with over 50 years' experience in the flooring industry. During that time, they have built up strong partnerships with the leading flooring product manufacturers such as Quick-Step. With high street retail stores up and down the country, they pride themselves on providing the very best customer service both online and in store. They offer big brand flooring products at massively reduced prices, this is because of their massive buying power; they buy big and you save big.
About Us
What our clients say...
"We find using StoreSeen has increased business and enhanced our image beyond the confines of not only the UK but the rest of Europe and beyond."
Richard Barr
Owner, Kyle Chandlers