News
StoreSeen at Ecommerce Expo North
24 May 2010
StoreSeen are pleased to be a sponsor at Ecommerce Expo North, 27th May 2010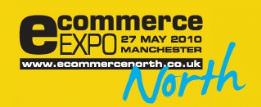 At this years Ecommerce Expo North StoreSeen have provided sponsorship in the form of some useful information about our company and our offering. This information has been distributed in all of the handout bags at the show so if you are attending please look out for this info in your bag.
About Ecommerce Expo North
Ecommerce Expo North 2010 is the industry event for ecommerce professionals in the North of England. Showcasing over 50 exhibting companies and a free to attend conference running from 9am - 5pm, it is the place to come to learn about what is new in Ecommerce.
Ecommerce Expo North Website
About Us
What our clients say...
"...The customer service offered is second to none and the technical coaching and support provided has proven to be invaluable."
Wendy Innes
Commercial Director, Williamson Innes Contemporary Art